Step 1
First, go to the Settings of the course you wish to export the quiz. Then select Export Content.
Step 2
Under export type select quiz. Select the individual quiz that you wish to export and select Create Export.
Step 3
Download the file.
Step 4
Open Respondus and select Import Questions.
Step 5
The type of file should say QTI, then select Browse.
Step 6
Select the file that was downloaded. Verify that the file is a Zip file.
Step 7
Select create a new document and name the document. Then select Preview.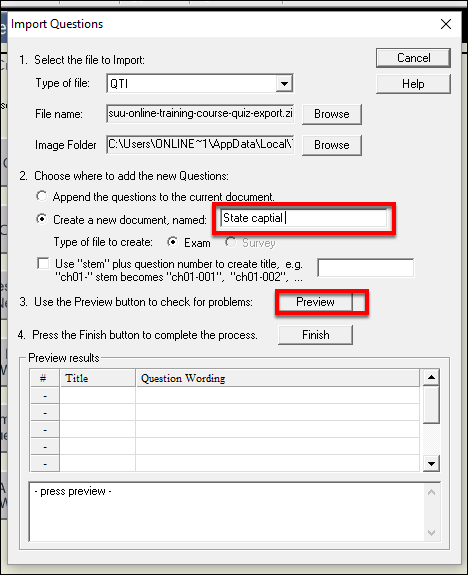 Step 8
Select Finish.
Step 9
Select Preview & Publish.
Step 10
There are many options in which to save the document. Select the option(s) that are desired and select Save to File.
Step 11
Save the file to the desired location on the computer.
For additional Respondus help and information, go to http://respondus.com/products/respondus/demos.shtml
---