Click on a link below to take you to the corresponding walkthrough.
All links open in new tabs.
For additional tutorials on Collaborations, select this link
---
Click one of the following links for more information.
The Collaborations tool in Canvas helps teachers or learners work together with the online collaborative document authoring tool Google Docs. Any Canvas user can create a collaboration and invite other users to join. Effective use of the Collaborations tool requires that learners have an account set up with Google Docs. Many students will already have a Google account, but some may need instruction on how to get started. And although Google Docs is fairly easy to learn on your own, some learners may benefit from instructions on how to navigate and use the tool. Finally, the concept of cloud-based tools and document storage may be foreign to some, and some learners may appreciate a discussion of the advantages and disadvantages of each.
Description and Possible Uses
Say that you have been assigned to a group project by your instructor. You may find that sending emails back and forth and trying to find times to meet can be tedious. Keeping track of multiple versions of the same document may also be challenging. Canvas uses technologies such as Google Docs to allow multiple users to work together on the same document at the same time. Collaborative documents are saved in real-time, meaning a change made by any of its users will be immediately visible to everyone. Collaborations that use Google Docs require that all participating learners have created and linked their Google account to their Profile. Many of you will already have a Google Docs account, but if you don't, you will need to get more information from Google's website.
Advantages
Use Collaborations to copy and paste lecture notes that everyone can access. An assigned class "secretary" can display notes taken during class for absent students to easily access. Your instructor can share bullet-point lists or agendas for upcoming synchronous classes or meetings. You can start a group project with a classmate. Collaborators can be added from the class roll without collecting email addresses or usernames. Canvas centralizes and integrates the different collaborative projects and can retrieve these for assignment submissions, etc. Projects can be tracked or managed within the Canvas system for grading and archival purposes
EtherPad is an open source project that lets you quickly set up shared documents. It's fast enough that you can see what others are typing as they're typing it. On the other hand, Etherpads collaborations aren't protected by a password so anyone with a link to them can edit them. EtherPad is better suited than Google Docs if you want to support anonymity and/or allow people without Google accounts to participate.
Step 1
Log in to your Canvas account and select the Collaborations link on the left-side menu. If you are a student and do not see Collaborations, then your instructor has deactivated this tool, and you won't be able to use it without asking your instructor to activate it.
Step 2
Select Start a New Collaboration in the top right corner.
Step 3
Choose Etherpad, and type the Document Name and Description. You can also choose with whom you want to collaborate. Then select Start Collaborating.
Step 4
Select the people icon in the top right corner and type in your name. If you want to change the color associated with your activity, select the color square, select your preferred color, and select Save. Select the people icon again to close the window.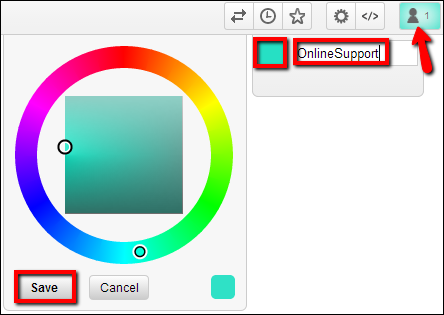 Step 5
Select the arrow icon to upload a file to the collaboration or export the current collaboration. Select Choose File and then Import Now to upload a file. If you want to export the collaboration, select the type of file you want, and then the download will start automatically.
Step 6
To view the history of the collaboration, select the clock icon.
Step 7
Select the Play button to watch the changes made to the collaboration. Select it again during the playback to pause. Use the arrow buttons to rewind and fast forward in intervals. Select Return to Pad to go back to editing the collaboration.
Step 8
Select the star icon to save the current collaboration.
Step 9
Select the gear icon to adjust the settings.
Step 10
Select the link icon to share the collaboration. Check the Read Only option if you don't want those with whom you share the collaboration to edit the collaboration.
Step 11
Use the toolbar in the top left corner to edit text on the collaboration. Select the Clear Authorship Colors icon to remove the user colors on the collaboration.
Step 12
Select the Chat tab in the bottom right corner to chat with other collaborators.
---
SUU Online Teaching & Learning
canvas@suu.edu
(435) 865-8555