The admissions checklist is a feature available to new students in mySUU. It displays a list of items/tasks that you must complete in order to be admitted.The admissions checklist is designed to help you understand what your admissions status is and how to fulfill all the requirements necessary for an admission decision to be made.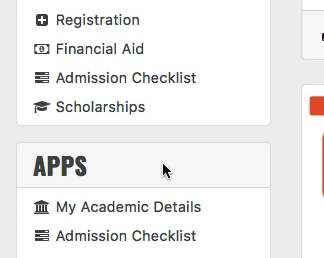 A red "x" icon Indicates that the item is missing. You can click on the description to obtain more information about fulfilling that checklist item.
A green check mark icon indicates that the checklist item is complete. Hovering over the icon will display the date that the item was completed.
The admissions checklist is currently "communicating" with the orientation registration software. If you have registered for orientation, it will not show as being "complete". We apologize for the inconvenience.
If you have any questions, you can contact your Admission Counselor.