Shells are generated automatically, but if you are teaching a new section that has not been offered before or a nontraditional section such as an independent study course, you may have to submit a shell request yourself. Select the following link to submit a request: (https://www.suu.edu/otl/canvas-requests/)
If you submitted a shell request for your new or nontraditional section but still can't access the course, consider the following factors:
Courses Drop-down Menu
Your shell may have been generated, but it doesn't appear in your courses drop-down menu because you need to customize the list. To add shells to your courses drop-down menu, select Courses and then select All Courses. Find the shell(s) you want to add to the list and select the star to the left of the name(s).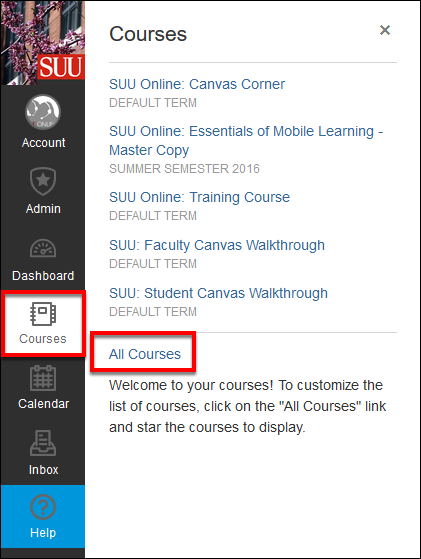 Incorrect Information
CRNs are the most common information error in shell requests; old CRNs are often submitted for new courses. CRNs change every semester for each section. If the CRN and semester do not match the Banner database, the shell will not be created.
Instructor Listing
If you have recently been assigned a new course to teach, the change will be updated by the Registrar's office. However, if you submitted a shell request before the change was updated in Banner, you will not have access until the update is performed. You can verify that you are listed as the instructor of record by searching in the Class Schedule (https://bannerssb.suu.edu/pls/proddad/bwckschd.pdispdyn_sched) or by checking if the course roster shows up in your portal. Instructors teaching a course with multiple instructors should select the following link to fill out the request form to add Co-Instructors to the course: (https://www.suu.edu/otl/requests/access.php) Adjuncts teaching SGCS courses will need to contact SUU Online.
Server Request Overload
Our LMS is hosted on a cloud server along with all the other Utah higher education institutions in the UEN consortium. Thus, there are times when Canvas responds slower. A typical shell request will be processed within 10 minutes of the submission, but if your shell request is not available by the next business day, contact SUU Online.
Future Semester Not Open
Shell requests for sections made beyond one year of the submission are rejected. For the shell to be created, an active section slated for a semester has to be assigned a new CRN. CRN assignments are performed by the Registrar's office. You can contact the Registrar's office regarding the ETA of Banner course processing for your section. Once the semester is opened, shell requests can be accepted.
---
SUU Online Teaching & Learning
canvas@suu.edu
(435) 865-8555