A Virtual Private Network (VPN) connection is required to access SUU resources from off campus.
These instructions will guide you through the installation and configuration of the Palo Alto GlobalProtect VPN Client for macOS.
Section 1: Downloading and Installing the GlobalProtect Client
1.) Click on the following link to download the macOS installer: Download macOS 64-bit GlobalProtect agent
2.) Launch the GlobalProtect.pkg file and follow the installation wizard steps.
Introduction -- Select Continue
Destination Select -- Select your local system drive where macOS is installed (this step will be skipped if there is only one drive)
Installation Type -- Select GlobalProtect and GlobalProtect System extensions and select Continue, then select Install
Input your local login credentials and select Install Software
3.) A System Extension is required for the GlobalProtect client to run on your computer. Click Open Security Preferences
4.) In Security Preferences, Click Allow to approve the extension
Section 2: Connecting to the VPN.
1.) Click on the GlobalProtect icon in the Menu Bar (top right hand corner of your screen)

2.) Enter vpn.suu.edu in the portal address field and hit Connect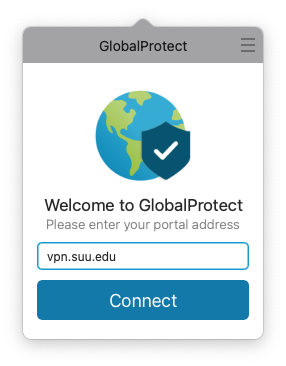 3.) Enter your SUU Username and Password into the GlobalProtect Portal and click Sign In
Note: Faculty & Staff logins require two-factor authentication (See Sections 3a and 3b for details)
3a.) Duo Push Method : If you typically use the push feature through the Duo Mobile application, There will not be a prompt that a push has been sent through the GlobalProtect Portal login screen. Remember to to check your device to respond to the push.
3b.) Passcode Method : If you typically use a Passcode generated by a FOB or the Duo Mobile app instead of push notifications, when you enter your password, you must append a comma (","), and then the 6-digit passcode generated by your FOB or the Duo Mobile smartphone app. Example: If you push the FOB button or tap the key icon in the Duo Mobile app to generate a code of 123456, and your password is "springtime", then your password for the GlobalProtect Portal would be the following: springtime,123456.
If you are an individual that is not required to use two-factor, then simply enter your password.
4.) Verify connectivity by clicking on the GlobalProtect icon to see if you are Connected
5.) You are now connected and ready to access SUU campus resources
Section 3: Disconnecting from the VPN
1.) To disconnect, click on the GlobalProtect icon in the menu bar and select Disconnect
If you have any issues connecting to the VPN, please contact the IT Help Desk, 435-865-8200, support@suu.edu.